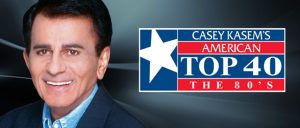 Casey Kasem's American Top 40 – The 80's
Sunday -- 12:00 PM - 03:00 PM
Saturday -- 08:00 AM - 11:00 AM / 06:00 PM - 09:00 PM
When you think "radio legend," you think of National Association of Broadcasters Hall of Fame inductee Casey Kasem.
On the air for over 50 years, Casey founded the radio staple American Top 40, which continues to be the most relevant source for pop music hits. To this day, there is no better way to experience classic hits than with Casey and the Classic American Top 40 Countdown.
The Bridge listeners can relive their pasts and enjoy the songs that never get old, spun with style by the most iconic voice in radio history.
Catch the Casey Kasem's American Top 40 – The 80's by tuning in to 96-7 The Bridge on Saturdays at 8am and 6pm and again on Sundays at 12pm.