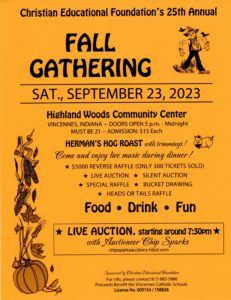 The Christian Educational Foundation (CEF) will be hosting their 25th Fall Gathering on Saturday, September 23 from 5:00 p.m. to midnight at Highland Woods Community Center.  Come and enjoy the Herman's BBQ Hog Roast dinner, Live Auction with Auctioneer Chip Sparks, Silent Auction, $5,000 Reverse Raffle, Special Raffle, Heads or Tails Raffle, Bucket Raffle, $250 Gift Card Raffle, and 50/50 Raffle.  Enjoy live music, by Katz & Jammers, during dinner!  Meal includes Herman's Hog Roast BBQ, potato salad, mac & cheese, baked beans, pickle spear, chips & cookies.  The event is open to the public.
Our big $5,000 Reverse Raffle tickets (which includes 5 – $1,000 winners & only 300 tickets sold prior to the event) are available to purchase now!  Other raffle tickets available for purchase in advance, include the Special Raffle-Handcrafted Barn Wood Shelf by Dave Hedden (donated by Kevin & Nancy Emmons/Cherokee Properties) (dimensions: 48" long; shelf size is 9.5", width is 12.5"), $250 Gift Card Raffle and 50/50 Raffle.
If you would like to donate an item to the event or purchase raffle tickets, please contact Kari Land at the CEF Office 812-882-5889, Debbie Thomas 812-881-7449, or Ann Herman 812-881-9752.  Proceeds from this event help the CEF provide support to the Vincennes Catholic Schools.  License #003154/158828.  Must be 21 to attend.