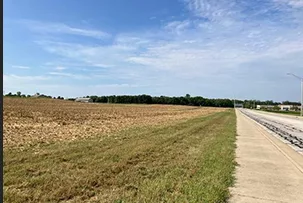 Bierhaus Boulevard may become home to an apartment complex.
A Gibson County based developer and construction company addressed the Vincennes Redevelopment Commission on Thursday concerning the 13 acres located across from Kohl's department store.
Phil Reinbrecht with Simplified Developments LLC and Elite Construction Services of Haubstadt is requesting the RDC pay for the infrastructure needed to build the $32 million complex.
The developer is requesting an incentive of $2.1 million to pay for roads, sidewalks and utilities as well.  They are also seeking tax abatement.
The RDC met the request with enthusiasm but took the matter under advisement and will look to their financial consultants.
Reinbrecht pointed out that recent legislation passed by the Indiana General Assembly could be an option for the city.
Indiana House Bill 1005 established a residential housing infrastructure and revolving loan fund assistance program that local governments can utilize when trying to bring more housing to their communities.
(photo from movoto.com)