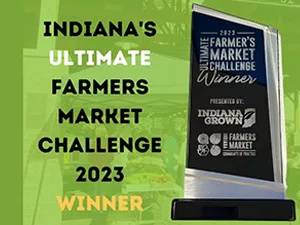 The Vincennes Historic Farmers Market has won the Ultimate Farmers Market Challenge.
Along with 29 other farmers markets nominated in Indiana, the Vincennes Historic Farmers Market competed for a  top spot in an online voting competition hosted by Indiana Grown and Indiana Farmers Market Community of Practice.
There more than 260 farmers markets across the state, many of which support local farmers, producers, growers, artisans and makers.
The goal of the challenge is to shine a spotlight on the markets that are creating gathering places for communities and providing locally grown and created products.
Voting started last month and ended last week. Indiana Grown announced on social media that Vincennes was the winner with over 1400 votes.
The market will be featured on Indiana Grown's feature on WISH-TV and will be recognized at the 2024 Indiana Grown Symposium.
The Indiana Grown Group will visit the Vincennes Farmers Market on September 30th in celebration of the win.