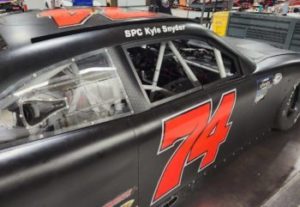 A local man who passed away while serving his country in Afghanistan will be honored at an Xfinity race on Saturday.
First City News spoke with Sarah Bell whose cousin Kyle Snyder was killed in 2005 by an IED.
Snyder was a Carlisle resident who graduated from Sullivan High School in 2002.
On Saturday at 1 pm, Snyder's name will be placed on the number 74 car in the NASCAR Xfinity Series above the door.
Bell says her mom approached her with the idea a few years ago after learning about how NASCAR honors veterans during Memorial Day, Fourth of July, and Veteran's Day.
She approached Mike Harmon, CHK Racing owner, with the idea and he was more than willing to jump in.
Snyder was only 21 when his group of the 76th Indiana National Guard from Indy was killed by an IED.
Bell was close to Snyder during their childhood and says he would have loved being honored this way.
The family has a long history of serving their country and Bell says everyone is excited.
The race is scheduled for Saturday at 1 pm and you can watch it on FS1.
Look out for the number 74 car that will be honoring Kyle Snyder and the sacrifice he made for our country.