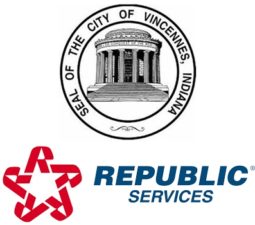 The City of Vincennes has announced the return of its citywide Large Item Disposal Days.
Vincennes has partnered with Republic Services to offer free disposal days on June 3rd and 10th.
From 8 am to 11:30 am both days, head out to Republic Services at 2706 North Second Street.
Items being accepted include household furniture, mattresses, large toys, carpeting tied in three-foot bundles, and appliances not containing chlorofluorocarbons (CFSs) and hydrofluorocarbons (HCFCs) like refrigerators and air conditioners.
Republic Services will not accept construction debris, building materials, tires, paint, liquid waste, hazardous waste, or anything that has Freon in it.
To take part in the free disposal days you must have a form of photo ID to verify you are a Vincennes resident.
If you have any questions about the program, call Republic Services at 812-882-1215 or the Vincennes Street and Sanitation Department at 812-885-2520.