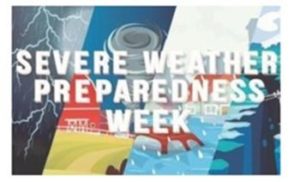 Severe Weather Preparedness Week in Indiana is wrapping up.
Part of the week's campaign is to bring awareness to the National Weather Service's effort to create a Weather-Ready Nation.
That's described as a nation in which communities are prepared and respond to extreme weather. water and climate events.
They are doing that by disseminating forecasts and warnings that better support response; training officials, businesses, and the public in weather hazard awareness, and supporting local officials during hazard response exercises and operations.
The Weather Service says they will continue working together with the Indiana Department of Homeland Security, state and county officials, the media, and emergency response organizations, and are committed to protecting life and property during all hazards.
For more on weather and safety, go to weather.gov.