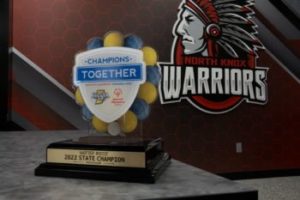 Yesterday we told you about a local high school group that's teaching leadership skills and helping a good cause.
The North Knox Champions Together has been a group for 7 years.
Jody Craig is a special education teacher at North Knox and is in charge of the group.
She says this group is a joint venture between the IHSAA and Special Olympics but is mainly a student-run organization.
Champions Together have been a state banner winner each year and were recognized for a National Banner in 2020 which lasts four years.
Principal Matt Sandefer says it's a rigorous process to get that national banner and is proud of his school for making it happen.
This group's goal is to bring awareness to disabilities and connect partners and student athletes to create more inclusion in the regular school.
Last Fall, The group competed in their fourth Bocce Ball State Finals.
Previously they had come in 3rd, 6th, and 9th.
This time around they had the magic touch as they took home the trophy.
Student Klair Bowers was a part of that championship team.
Bowers is a junior at North Knox and a part of the leadership committee for the group.
She says it's been a fun experience to plan and run the events all year.
Beyond bocce ball and bowling, Champions Together also has in-school sports of volleyball, kickball, basketball, and wiffleball.
100 students participate each year and Sandefer says it's a very heartwarming thing to see.
Everyone at North Knox is proud of this group and the smiles they bring to their faces.