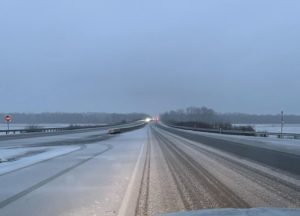 (photo of US 41 at White River Bridge at around 8-am Eastern Time today.  Photo from ISP)
As morning commuters headed out today local and state law enforcement advised caution.
Several agencies reported multiple slide offs in Knox and surrounding counties.
Roads are wet with rain and snow and sleet that is freezing in some places causing slick spots.
Motorists should reduce speed, leave plenty of room between themselves and other vehicles and allow extra time to get their destination.
Visit 511in.org and you can see almost up to the minute road conditions from cameras aboard snow plows all across the state.