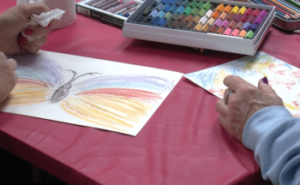 The first of three open art studios at the Margaret Compton Recovery Hub drew a large crowd.
McKenzie Young, a Community-Based Prevention Specialist and Project Manager for the hub spoke with First City News about the event.
Young says the idea sprouted from a meeting with Technical Assistance who is with the state and funds the grant used at the recovery hub.
At that meeting, it was discussed that they didn't want to get art that you would normally see in a doctor's office or business.
Young and the art therapist in training decided that making something unique for the hub would make it special for those that will use it.
Members of the community filled the recovery hub as they drew, colored, and painted.
Young says they had to make extra room to accommodate the crowd.
Art supplies were provided including oil pastels, colored pencils, acrylics, watercolors, and pencils.
Young invites you to the two remaining open studios on Feb. 9th at 6 PM and Feb. 19th at 3 pm.
Grand opening preparations are close, according to Young, saying they hope to make an announcement soon.