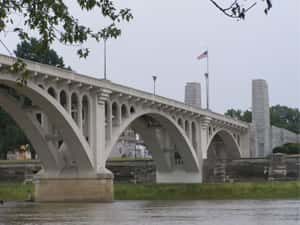 It's been over two weeks since the Lincoln Memorial Bridge was closed over the Wabash.
Repairs have gotten underway on parts of the bridge near the George Rogers Clark Memorial which links Indiana and Illinois in downtown Vincennes.
George Rogers Clark National Historical Park Ranger Joe Herron says workers are finding pretty much what they anticipated…
Those materials have been there for 90 years.
Herron reiterated the reason why the bridge was shut down…
So far works is going on as scheduled.
The bridge is not slated to re-open until around the 1st of May.