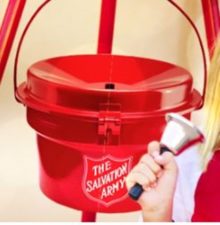 The Salvation Army Red Kettle Campaign starts Friday.
Sign ups for volunteer bell ringers have been going on for awhile.
Captain Karla Salisbury of the Vincennes Salvation Army Corp says they need to fill 1500 hours.  Only close to 400  of those hours have been spoken for.
She says they desperately need the volunteer help as the Red Kettle Campaign is a big part of the local corps budget…
To volunteer go to registertoring.com.
You can sign up for a two hour shift and choose when and where you want to work.
Individuals, groups. churches, civic organizations and clubs are all welcome to volunteer.