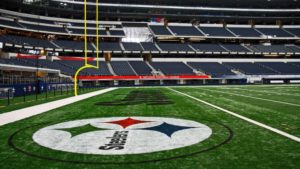 Pittsburgh Steelers coach Mike Tomlin confirmed Tuesday the rookie first-round pick Kenny Pickett will be the starting quarterback in Week 5 against the Buffalo Bills, in place of Mitchell Trubisky.nPickett replaced Trubisky in the second half of Week 4's loss to the New York Jets, rushing for two touchdowns to give the Steelers a fourth-quarter lead, though they eventually lost the game.
Tomlin told reporters: "Kenny will start this week. We made the change, obviously. Mitch's performance was a component of the decision, but not the only component of the decision. I just want to be really clear there. Oftentimes the quarterback position gets too much credit, too much blame. We haven't moved the ball fluently enough to our liking. We hadn't put enough points on the board. The quarterback is a component of that, but not the only component. We've all got to absorb the responsibility that comes with what we haven't done, particularly in that phase. Including myself and starting with myself."
Tomlin said the decision to go to the rookie wasn't based solely on Trubisky's performance, adding: "When you make a quarterback change, you're really sensitive to that component of it because I don't want to dump the responsibility of what transpired at Mitch's feet. That's not fair to him — he's played better than that description — but we haven't. So, in an effort to be better, in an effort to score more points, in an effort to move the ball more fluently, we decided to go to Kenny in the hopes that he will provide a spark for us. We felt that not only in terms of our ability to move the ball but just in terms of energy. Hopefully, that's a catalyst for us as we try to move forward and change the outcome of some of these games. Our business is winning, and we're about our business. We've lost three games in a row and we've got a formidable opponent this week. A lot of things to be excited about, a lot of things to have urgency regarding, and that's just a component of it. So I thought that was deserving of extended time and discussion there."
The Bills are tied for first in the NFL, allowing 234.5 yards per game, second in yards per play (4.2), and fifth in sacks with 13.
Editorial credit: Ken Durden / Shutterstock.com