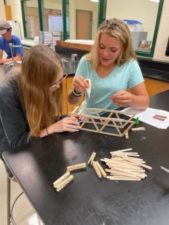 A retired teacher returns to the classroom for end of summer fun.
The Pantheon hosted the inaugural summer STEM camp at Lincoln High School.
The instructor Kreg Battles use to teach at Lincoln High for over 40 years before retiring last year.
But he just couldn't stay away form the classroom.
All week long Battles has been teaching middle school students through hands on activities in Forensic Science, Chemistry and Physics.
When first city news stopped by, we witnessed a rocket launch using vinegar and baking soda.
Not every launch was a success, but Battles says that was part of the fun.
After the initial tests, students got to doctor the formula and try again.