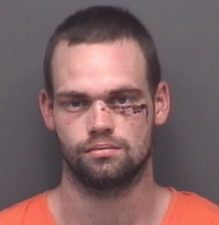 State Police arrested a man after he crashed his vehicle on I64.
At 1-am Central Time on Friday, troopers were told of people walking on the interstate.
They found two adults and three kids at the 36.5 mile marker. One of them was 27-year-old William Burdette of Evansville.
Troopers say Burdette had been driving a '97 Ford Explorer west on I64 near that area when the vehicle left the road on the north side and rolled over several times coming to rest down an embankment.
Burdette had minor injuries as did his six year old daughter and an adult woman. His sons, ages 1 and 3 were not injured.
Medical treatment was refused.
Trooper say Burdette showed signs of impairment.
He was charged with a Misdemeanor count of Operating While Intoxicated, a Felony count of Operating While Intoxicated with Passengers under 18 and with a Felony count of Neglect of a Dependent.
He was taken to the Warrick County Jail.