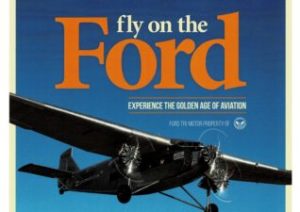 A flying museum is in the area.
The Ford Tri-Motor, known as the first luxury airliner is at the Mid America Air Center in Lawrence County, Illinois.
You have a chance to take a flight as part of the Ford Tri-Motor Tour this Thursday, Friday, Saturday, or Sunday at the air center.
Mid-American Pilots Association Member and President Emeritus Dr. Scott Stine say the Tri-Motor was a big step in aviation a hundred years ago…
The Ford Tour comes through the Experimental Aircraft Association based in Wisconsin.  Flights cost $55 to $80.
Dr. Stine says the event ties in with the Young Eagles Flight Day on Saturday at the Air Center offered through the Pilot's Association where kids ages 8 to 17 can be introduced to the world of general aviation.
There will also be information concerning a scholarship to help pay for flight training.  The scholarship is in memory and honor of the late Judge Ryan Johanningsmeier.
All of that is happening this weekend at the Mid America Air Center for more information and to register go to flymapa.org.