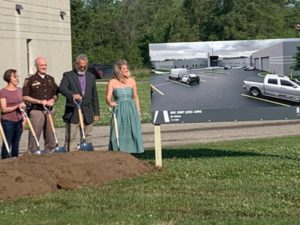 After several years of hard work, construction on the new Knox County Jail is finally underway.
The Knox County Chamber of Commerce hosted an official groundbreaking earlier today.
Community members from around the area attended as Knox County commissioners, the Knox County Council, and Vincennes city leaders got the ball rolling.
The new justice campus, which consists of a new jail and community corrections facility, has been several years in the making.
In 2020, architecture firm RQAW released the results of its study, which found the Knox County Jail has consistently been at capacity since 2010.
The community corrections facility is also in major need of an upgrade as officials say it has a variety of electrical and plumbing issues.
First City News spoke with Noble Parish, the jail commander at the Knox County Jail.
He says a new jail will make things easier for everyone.
If things go according to plan, it will take crews around a year and a half to complete the jail.