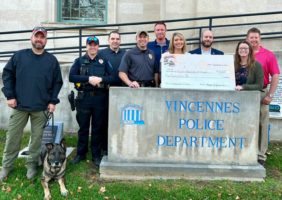 The Vincennes Police Department is giving thanks to a local group for a donation.
Heaps of Jeeps is a non-profit supporting first responders in Knox County, Indiana, and Lawrence County, Illinois.
Social media posts show the group donated $5,000 to the Vincennes Police Department's K9 fund.
The department's police dog died unexpectedly last month and donations continue to be sought and accepted to offset the costs of obtaining another k9.
You can mail or take donations to the department.