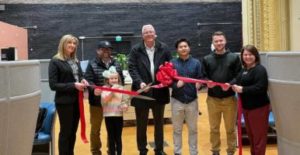 One local business hub received some good news.
RedAubs Tech officially opened for business inside the Pantheon Business incubator in Vincennes.
Michael Folsom is in charge of RedAubs Tech, which is an IT business.
He's worked in the private sector and with the government for years; however, he decided to branch out on his own.
His business will operate out of one of the Pantheon's offices.
Nichole Like is the president of the Pantheon.
She says the new business is a validation of what the Pantheon brings to the table.
Like says the long-term goal for The Pantheon is to continually create a support system where people with an entrepreneurial mindset to go and network, get new ideas and collaborate to launch new businesses.