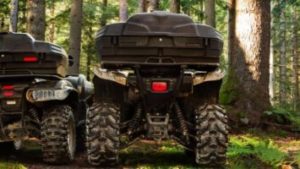 Off-road vehicles could soon be allowed on the streets of Washington.
The topic came up earlier this month and a public hearing on the idea was held last night at the Washington City Council Chambers.
About 30 people attended and all were in favor of allowing the vehicles to share the roads with cars, trucks, and golf carts.
Stipulations include making sure the off-road vehicles are street legal meaning they have to have working lights and seatbelts, be covered by insurance, and display a flag.
Per state law, the ORVs would not be allowed on state roads including Business 50 through Washington.  The same holds true for the golf carts.
Operators need to have a valid driver's license, purchase a yearly registration, and submit to inspections.
A committee has been formed to draw up a proposal to be presented to the City Council in November.