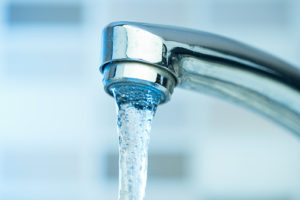 Improvements to Vincennes' drinking water system was a main topic at Monday night's City Council meeting.
Utilities Services Manager Kirk Bouchie outlined the plan that was approved by the Utilities Service Board last week.
That plan include adding a 2 million gallon water tower on Hart Street at Bauer Drive on property owned by the Vincennes School Corporation.
Bouchie explained they have been in discussion with Schools' Superintendent Greg Parsley and the school board
The new water tower would be the fifth one that serves the city.
Other components of the project include a water main connection on Bauer Drive from Hart Street to Main Street and a water main extension connecting two points in the system at Monty and Thompson Roads to improve water quality and pressure near the Ridgeview Subdivision.
Bouchie says the project is estimated to cost $8.7 million to be paid for through a bond sale and American Rescue Plan Act Funds that were awarded to the city.
He says there will be no rate increase to water customers.
The city council will need to approve an ordinance to allow for the bond sale.
First reading of the ordinance and a public hearing will take place at the November 8th City Council meeting at 6pm.