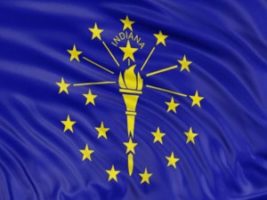 Indiana Governor Eric Holcomb's office released the results of a major review.
Governor Holcomb initiated a third-party review of all state-level law enforcement agencies.
This includes Indiana State Police, Indiana Conservation Officers, the Indiana Law Enforcement Academy, and Indiana Law Enforcement Training Board.
He contracted the Jensen Hughes Company to complete the work.
The company spent the last year reviewing policies, procedures, and training materials from all of the stated law enforcement divisions.
Some of the recommendations for Indiana State Police include issuing body cameras for all state troopers on the front lines, developing a recruitment plan, investing in a shared case management system to allow for efficient internal investigations, and to increase transparency between law enforcement agencies.
The report also suggests releasing an annual report with the goal of transparency and data sharing.
Meanwhile, the Indiana Law Enforcement Academy has committed to establishing a work group to reevaluate current training methods that include topics like implicit bias and developing and implementing a de-escalation response program for people suffering from a mental health crisis.