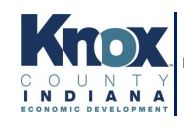 A survey of broadband service in Knox County shows a need for faster service.
The recent survey conducted by the Knox County Broadband Task Force shows close to 90% of respondents have internet access but almost half said speeds were too slow and service was unreliable.
About 53% of speed tests conducted failed to meet the FCC broadband threshold.  The tests were located all over the county with no clear spatial pattern or localized issue.
A third of those responding who were unsatisfied were using technologies like DSL, satellite or cellular plans with data limits as opposed to tech that offers faster symmetrical speeds.
The findings also show that half of senior citizens and 44% of elementary age kids in households that responded had no home internet or were connected through DSL, satellite or cellular.
Over a thousand valid survey responses were received.
Knox County Indiana Economic Development spearheaded the survey to gauge the need for broadband.
The data will be used when applying for funding from state and federal broadband programs.
———
Click the link to see the full report