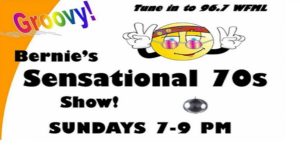 Join Bernie Schmitt (see more about Bernie below) each Sunday Evening from 7 pm to 9 pm (Eastern) for Bernie's Sensational 70's Show…featuring a wide range of artists from the decade that gave us Roller Disco, Atari video game consoles (remember pong?), and Evel Knievel.
Do you remember pretending to be "bionic", having a favorite "Charlie's Angel" or learning the metric system?
Hollywood produced blockbuster movies that kept giving long after the decade was over….like  Rocky,  Saturday Night Fever, Grease, and Star Wars…not to mention Jaws.
And the music… Tune in to hear some of the 70's greatest hits…plus deeper album tracks and songs you probably have completely forgotten. Even if you're not a child of the '70s…you'll enjoy the great music mix and Bernie's notes about the artists, songs, and what was happening during the decade.  You can listen on the radio…just like we did in the 1970s…or stream it right to your smart device (www.967thebridge.com).
ABOUT OUR HOST:
Bernie Schmitt is a Vincennes University college professor who teaches English and Communication courses. A former newspaper photographer, writer, and editor, Schmitt is the host of Bernie's Sensational 70s Show each Sunday on 96.7 The Bridge.
Bernie has worked for newspapers in Wyoming, Kansas, and Indiana, and has interviewed and photographed a variety of musical artists over the years.  His love of music began at a young age, listening to WJPS Evansville on his transistor radio while growing, and later, playing vinyl albums, eight-track, and cassette tape by his favorite artists of the 70s.
"A lot of great music was made in the 1970s," Schmitt says. "A 70s radio show allows me to share it with others."
Schmitt is a Vincennes University graduate and served as editor of The Trailblazer, the VU student newspaper in 1979.  He studied journalism and writing at Indiana University and the University of Southern Indiana. He grew up in Gibson County, Indiana. 
Bernie's Sensational 70s Show airs Sundays, from 7-9 p.m. EST.  Send Bernie a message regarding requests, the show, or the Seventies, to bernies70s@967thebridge.com.