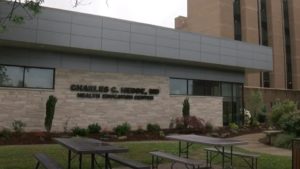 The opening of a new health education center will be celebrated tonight.
(photo courtesy Inside Indiana  Business)
Good Samaritan Foundation Director Gary Hackney says the state of the art Charles C. Hedde Health Education Center is being used by Good Samaritan Hospital for staff and clinical training….
Hackney talked about the benefits of having such a center…
The education center is also available for community use.  Several public meetings and gatherings have already been held there.
The facility is located on the hospital campus and tonight in the center's parking lot there's a grand opening celebration and concert with free food and entertainment from the band Bad Medicine.
It runs from 6 to 9 with a short presentation starting at 6.
You are encouraged to bring a lawn chair.