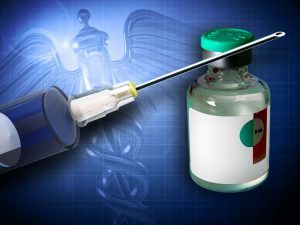 (NETWORK INDIANA)   The vaccine once called a "game changer" in the COVID vaccination drive is instead just a supporting player in the push to get Hoosiers vaccinated.
Health officials predicted the Johnson and Johnson vaccine would reshape the pandemic fight — because it requires one dose instead of two, people wouldn't have to disrupt their schedules twice. In early April, the J-and-J vaccine accounted for about a third of Indiana vaccinations. Then the F-D-A paused the vaccine for 10 days to investigate instances of a rare blood clotting disorder. Even after the F-D-A declared the vaccine safe, people began choosing the two-dose Pfizer or Moderna vaccines. Johnson and Johnson now accounts for only about one-seventh of new vaccinations.
Fishers health director Monica Heltz says there was clear enthusiasm for a one-and-done shot. When Fishers scheduled a mass vaccination clinic with the vaccine, Heltz says all one-thousand slots filled up quickly. But at another clinic after the pause was lifted, only 200 people made appointments.
Fishers now offers all three vaccines at the health department office, and Heltz says most people are picking the other two. She emphasizes all three vaccines are safe and effective.