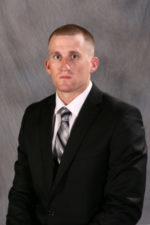 A Southern Indiana State Trooper has been arrested for Sexual Battery and False Informing.
The state police post at Jasper reports that four year veteran trooper Ryan L. Griffith was arrested this morning without incident.
The investigation dates back to February 27th when the Crawford County Sheriff's Department received a report of an alleged sexual battery.  The department turned the case over to state police.
Investigators say Griffith, who was off duty at the time, allegedly touched a female victim in an unwanted manner at a private residence in Crawford County.
Griffith is also accused of giving false information to police during the investigation.
Griffith was booked into the Crawford County Jail on a $7500 cash bond and is on administrative leave.