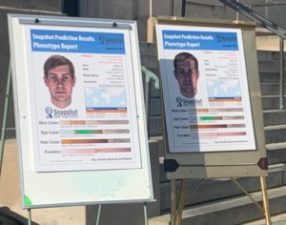 The Vincennes Police Department is asking for your help.
Police held a press conference on a 2008 cold case Wednesday morning.
They're looking for the suspect in a rape and assault case.
It happened on November 21st 2008 at a home on West Saint Clair Street in Vincennes.
Police say the suspect entered the a home, sexually assaulted and severely battered the victim.
Since then, officials have been working to identify a suspect.
Police say they worked with Parabon Nanolabs to put together a forensic composite profile of a person of interest.
They used DNA analysis to show what the man would look like at the ages of 25 and 35.
Police say the profile is the result of years of hard work.
They stress that while it took time to reach this point, they have been working hard to bring justice to the victim.
If you recognize the person of interest in this case, or have any information, you're asked to call Detective Reese at the Vincennes Police Department.
The number is 812-882-1630.