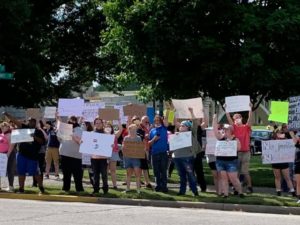 More than 200 people took part in a peaceful protest in downtown Vincennes Tuesday evening.
City officials, including Mayor Joe Yochum and City Police Chief Bob Dunham, joined in with the crowd.
Many community members held signs in support of Black Lives Matter, calling for racial equality and an end to police brutality.
The local protest is the latest of many across the state and country in response to the killing of George Floyd in Minneapolis by police there.
City police and Knox County Sheriffs Deputies assisted in crowd control for the protest, which remained peaceful.
Vincennes Police say the crowd neared the 400 count at different times during the evening.