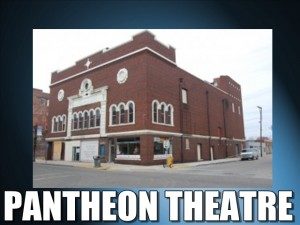 The Knox County Commissioners are supporting the City of Vincennes' efforts in securing a grant to fix up the front of the Pantheon Education and Entrepreneurial Center.
The City is seeking a grant through the U.S. Department of Commerce that would provide over $570,000 for facade work, new windows as well as technology upgrades to the nearly century old building.
In order to obtain the grant, both the city and county would put up $122,000 apiece as part of the local match.
Commissioner Tim Ellerman was opposed to spending anymore money on the Pantheon. He says the county has already invested far too much money on the work and there doesn't seem to be an end in sight.
Commission President Kellie Streeter pointed out that to date the county has contributed $950,000 to the project out of a total commitment of $1.2 million. The City of Vincennes which is partnering with the county to restore the Pantheon has put up a matching amount.
On a 2-to-1 vote, the Commissioners passed a resolution in support of the City's Grant application.
The Southern Indiana Development Commission is preparing the grant application for submission to the Department of Commerce.