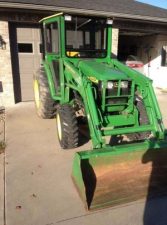 Law enforcement officials in Dubois County are hoping you can help locate a stolen tractor.
The Dubois County Sheriff's Office says the tractor theft took place at a home on Jasper-Dubois Road near County Road 325 East sometime between Sunday afternoon and Monday evening.
According to a social media post, the tractor in question is a John Deere 4600, with an attachment on the front.
Anyone with information about the stolen tractor is asked to contact the Dubois County Dispatch center at (812) 482-9111 with any tips. All callers can remain confidential.