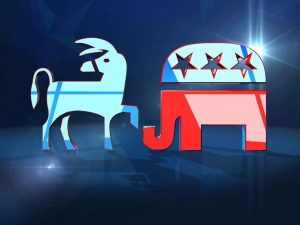 As we approach Election Day on November 5th, Vincennes residents will have the chance to hear from candidates on the ballot this weekend.
On Thursday evening, WVUT and the Knox County League of Women Voters will host a candidate forum featuring those running for City Council District and At-Large positions. That forum will then be broadcast beginning Saturday, October 26th.
In District 1, Republican Brian Grove will defend his seat against Democrat Will Drews. District 2 will see Republican Ed Gornall challenge Democratic incumbent Traci Breece. A three-way race will take place in District 3, where Democrat Scott Brown will defends his seat against Libertarian Shane Lemler and Republican John Stangle. Republican Michelle James will look to unseat Democrat Dan Ravellette in District 4. Newcomers Ryan Lough, a Republican, and Vickie Reeves, a Democrat, will battle it out for the District 5 seat.
Current District 5 Councilman Tim Salters will be joined by fellow Republican Marc McNeece and Democrats Duane Chattin and Shirley Rose in the race for the pair of At-Large seats on the council.
You can view the Candidate forum on Saturday at 8:00 p.m. or listen to a replay on Blazer 91.1 on Sunday beginning at 9:00 a.m.