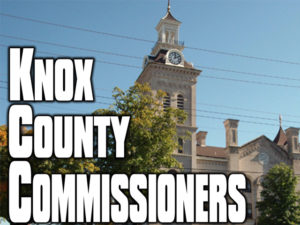 An interlocal agreement between the City of Bicknell and Knox County concerning law enforcement coverage is a step closer to becoming official.
At their meeting Tuesday, the County Commissioners voted 2 to 1 to sign the agreement, which would see Bicknell pay the county $326,000 per year to take care of the costs of hiring four new Sheriff's Deputies. Those deputies would join the single remaining Bicknell Police officer in providing law enforcement coverage for the city.
During the meeting, all three Commissioners stated they felt like a decision needed to be made soon, as the current arrangement between the City and County is stretching the Sheriff's Department thin.
President of the Commissioners Kellie Streeter says the county is assuming a lot of new responsibility and liability, should this agreement pass.
Commissioner Tim Ellerman was the lone "no" vote on the matter, citing that liability as being too much, in his opinion.
The issue no moves back to the County Council, who tabled the agreement at their meeting last week. They will revisit the agreement and likely take a vote on it at their next meeting, set for September 10th. Should the Council decide to sign the interlocal agreement, it will become official.