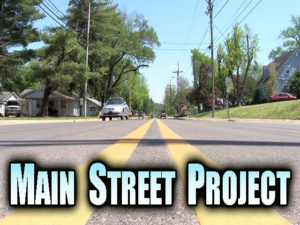 School buses will be able to have access to Main Street beginning August 8th.
City Engineer John Sprague says Main Street from 22nd Street to the Jamestown Apartments will be opened on a limited basis to allow
buses through in the morning and afternoons. He says the road maybe opened on a limited basis to other vehicles, but that has yet to be determined.
Despite all of the rain, Sprague told members of the Vincennes Redevelopment Commission Thursday that they've made good progress.
The curbing has been installed and all that remains is installation of  sidewalks, street lighting and adding bicycle lanes.
The R-D-C is paying for the 1st phase of the Main Street project. The city is looking at state and federal funding to complete phases two and three that will extend the improvements out to Lincoln High School.